3D Printing Microfluidics Devices & Master Molds
Before 3D printing there was a limitation on time for just the design part which goes into the Microfluidics devices. Researchers were not able to print any three dimension  files. They had to outsource all of their devices which was time consuming and costly. With the Help of Cadworks3D printer (powered by Miicraft) researchers are now able to design and print their models in a matter of hours. 
Master Molds for PDMS Applications
With the 3D printed Master Mold Resin for PDMS applications, researchers can create masters for PDMS applications. The resin can also print features as fine as 50 µm and with exceptional print surface which results in glass-like transparent PDMS devices.
 
Over the last two years, we have formulated a resin that allows users to create master molds to cast PDMS devices with the help of a 3D printer. The Master Mold for PDMS devices resin is Manufactured in Canada and exclusively available to our customers. The key feature of the Master Mold for PDMS is that users can cast one to many thousand PDMS devices without the need for a release agent.  The printed master can be fully cured in a conventional research lab oven. This Master Mold has a printed resolution of 50um, when printed on the CADworks3D M50-405nm 3D printer. 
Protein profiling PDMS device seen through transmitted light. Courtesy University of Toronto, Kelley Lab
Easy to peel PDMS device from the master without the need of any release agents. 
Clear Microfluidic material for encapsulated channels
3D printing has totally changed the way we look at microfluidics. With the help of BV-007 (resin) on the Miicraft printer, researchers are able to print clear chips with channels as small as 250 µm. This resin is also perfect for researchers who want to print lab on a chip devices.
 The BV-007 is a UV inert clear resin formulated for printing clear encapsulated channels that are heads and shoulders above the competitors. With the M50-405 printer, we are able to achieve encapsulated channels at approximately 300um. The resin prints with a high mirror finish resulting in a printed devices with good transparency before any post printing processing.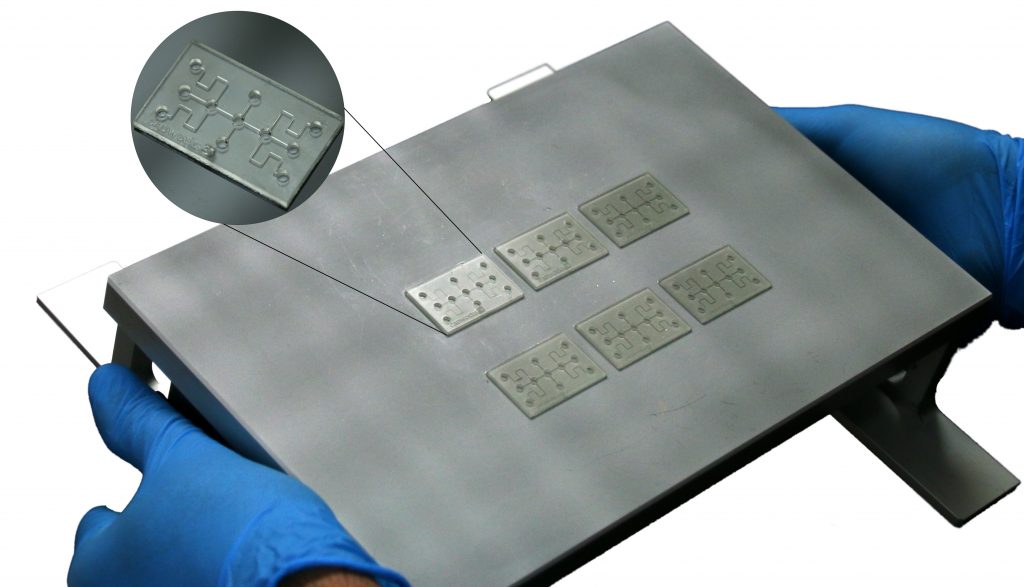 BV-007 Printed on the CADworks3D 4K-120

Mirror like printed surface as seen under light.